Happy Publication Day to Nalini Singh's Silver Silence!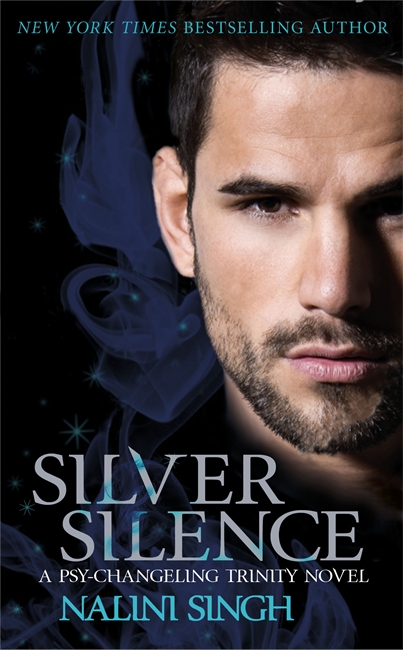 If anything is going to thaw our winter hearts, it's fanning ourselves with the paperback of Nalini Singh's smoking hot SILVER SILENCE. This is book one in the brand-new series arc in her Psy-Changeling Trinity series, and it is the perfect jumping on point for new readers and current fans alike!
 New York Times bestselling author Nalini Singh returns to her extraordinary Psy-Changeling world with a story of wild passion and darkest betrayal . . .
Control. Precision. Family. These are the principles that drive Silver Mercant. At a time when the fledgling Trinity Accord seeks to unite a divided world, with Silver playing a crucial role as director of a worldwide emergency response network, wildness and chaos are the last things she needs in her life. But that's exactly what Valentin Nikolaev, alpha of the StoneWater bears, brings with him.
Valentin has never met a more fascinating woman. Though Silver is ruled by Silence – her mind clear of all emotion – Valentin senses a whisper of fire around her. That's what keeps him climbing apartment buildings to be near her. But when a shadow assassin almost succeeds in poisoning Silver, the stakes become deadly serious . . . and Silver finds herself in the heart of a powerful bear clan. Her would-be assassin has no idea what their poison has unleashed . . .
'Singh continues to be one of the most prolific and consistently excellent writers on the scene today, which she again demonstrates with her latest offering of Silver Silence . . . It is so easy to jump into one of Singh's worlds, but it is darn hard to leave it!' Romantic Times (Top Pick)
'Fans of earlier Psy-Changeling books will delight in the return of familiar faces as well as the perfect blend of humour, action, and intrigue . . .' Publishers Weekly
You can buy SILVER SILENCE in paperback here or ebook here.
You can check out all of Nalini's books here. To find out more about Nalini Singh visit her website, or follow her on Twitter @NaliniSingh.