Happy Publication Day 22nd February!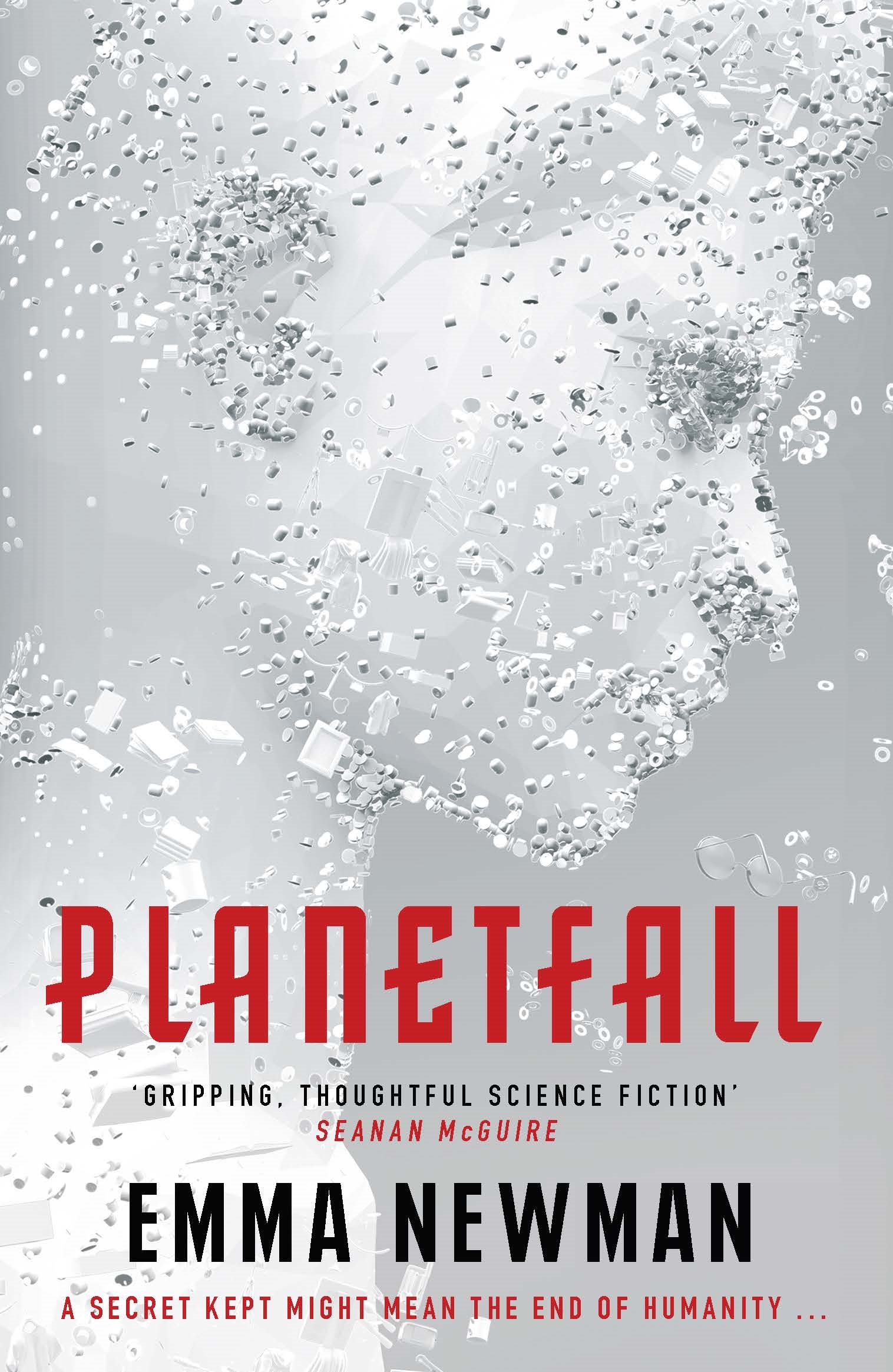 Planetfall – Emma Newman
From Emma Newman, the award-nominated author of Between Two Thorns, comes a novel of how one secret withheld to protect humanity's future might be its undoing . . .
Renata Ghali believed in Lee Suh-Mi's vision of a world far beyond Earth, calling to humanity. A planet promising to reveal the truth about our place in the cosmos, untainted by overpopulation, pollution, and war. Ren believed in that vision enough to give up everything to follow Suh-Mi into the unknown.
More than twenty-two years have passed since Ren and the rest of the faithful braved the starry abyss and established a colony at the base of an enigmatic alien structure where Suh-Mi has since resided, alone. All that time, Ren has worked hard as the colony's 3-D printer engineer, creating the tools necessary for human survival in an alien environment, and harbouring a devastating secret.
Ren continues to perpetuate the lie forming the foundation of the colony for the good of her fellow colonists, despite the personal cost. Then a stranger appears, far too young to have been part of the first planetfall, a man who bears a remarkable resemblance to Suh-Mi.
The truth Ren has concealed since planetfall can no longer be hidden. And its revelation might tear the colony apart . . .
And there's plenty of praise for Emma Newman:
'Cathartic and transcendent' New York Times
'An exceptionally engaging novel that explores the complex relationship between mythology and science . . . Surprising plot turns and richly developed characters make for a vivid, riveting read' Washington Post
'A fascinating and propulsive tale about what could happen when actual humans try to settle a planet and about how little protection technology can really offer in the face of our inherent weaknesses' Locus
Planetfall is available now in mass market paperback, audio download, and eBook!
After Atlas – Emma Newman
Acclaimed author Emma Newman returns to the captivating universe she created in Planetfall with a stunning, Arthur C. Clarke Award-shortlisted science fiction mystery where one man's murder is much more than it seems . . .
Gov-corp detective Carlos Moreno was only a baby when Atlas left Earth to seek truth among the stars. But in that moment, the course of Carlos's entire life changed. Atlas is what took his mother away; what made his father lose hope; what led Alejandro Casales, leader of the religious cult known as the Circle, to his door. And now, on the eve of the fortieth anniversary of Atlas's departure, it's got something to do with why Casales was found dead in his hotel room – and why Carlos is the man in charge of the investigation.
To figure out who killed one of the most powerful men on Earth, Carlos is supposed to put aside his personal history. But the deeper he delves into the case, the more he realises that escaping the past is not so easy. There's more to Casales's death than meets the eye, and something much more sinister to the legacy of Atlas than anyone realizes . . .
Praise for Emma Newman:
'Newman writes with exquisite precision of grief, divided loyalties, and the struggle for self-actualization in this noir-inflected standalone . . . Gripping and sorrowful' Publisher's Weekly
'A detective novel on acid . . . Newman's psychological insight is astute' Washington Post
'A lovely locked room mystery in which the stakes are incredibly high and the world is so very engaging . . . Emma Newman creates addictive page turners' Starburst Magazine
Get After Atlas now in mass market paperback, eBook, and audio download!
The Smoke – Simon Ings
Simon Ings' The Smoke is about love, loss and loneliness in an incomprehensible world.

Humanity has been split into three different species. Mutual incomprehension has fractured the globe. As humans race to be the first of their kind to reach the stars, another Great War looms.
For you that means returning to Yorkshire and the town of your birth, where factories churn out the parts for gigantic spaceships. You're done with the pretentions of the capital and its unfathomable architecture. You're done with the people of the Bund, their easy superiority and unstoppable spread throughout the city of London and beyond. You're done with Georgy Chernoy and his questionable defeat of death. You're done with his daughter, Fel, and losing all the time. You're done with love.
But soon enough you will find yourself in the Smoke again, drawn back to the life you thought you'd left behind.
You're done with love. But love's not done with you.
And people have had plenty to say about Simon's work:
'A serious, ambitious and discomforting novel' Christopher Priest, author of The Prestige, on Wolves
'Simon Ings goes into orbit as a science fiction master' Daily Mail on Headlong
'Ings' return to full-throttle SF is a cause for celebration. His gift for edgy slipstream fiction makes comparisons with both JG Ballard and William Gibson apposite. Bleak, brutal and uncompromising' SFX on Wolves
'Hot Head is the rosy glow announcing the dawn of a new era of excitement in science fiction' New York Review of Science Fiction on Hot Head
The Smoke is available now in Trade Paperback and eBook!
The Night Lies Bleeding ­– M.D. Lachlan
Norse myths, werewolves and the Second World War collide in the final volume of the bestselling series which began with Wolfsangel.
The world is at war again. London is suffering from the German Blitz. For one immortal werewolf, the war means little. He knows he will soon have to give up his identity once more, begin a new life. Before the wolf emerges.
But a chance conversation leads him to the scene of a gruesome murder, and the realisation that another war is being fought. The runes want to be together, and the when they are the wolf's story will end.
And in Germany, one weak-willed doctor finds himself caught up in the Third Reich's fascination with the occult and the Norse myths. They believe that the runes will bring them power, and wish to abuse them for their own ends.
And if they succeed, Ragnarok will come.
Here's what people have had to say about M.D. Lachlan:
'The most exciting, visceral, and deeply imaginative writer of fantasy working today' Adam Roberts
'Dark and original. Recommended' Joe Abercrombie, author of The First Law series
The Night Lies Bleeding is out now in Trade Paperback and eBook.