Happy Publication Day 8th March 2018!
It's paperback publication day here at Gollancz Towers and we have some epic new reads for your bookshelves. Fantasy fans, rejoice, because we've got four incredible new adventures to share with you. Wishlists at the ready . . .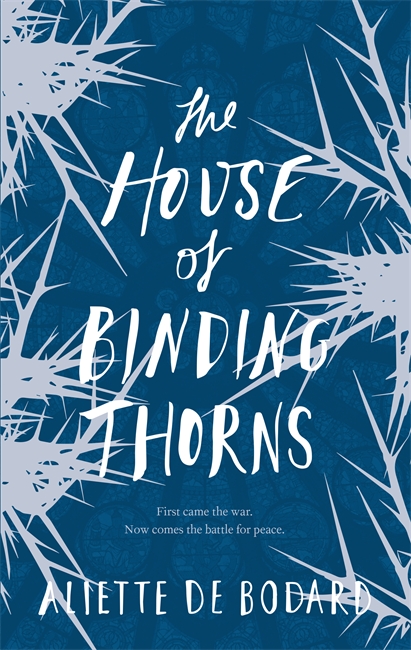 The House of Binding Thorns – Aliette de Bodard
The multi-award-winning author of The House of Shattered Wings continues her Dominion of the Fallen saga as Paris endures the aftermath of a devastating arcane war . . .
As the city rebuilds from the onslaught of sorcery that nearly destroyed it, the great Houses of Paris, ruled by fallen angels, still contest one another for control over the capital.
House Silverspires was once the most powerful, but just as it sought to rise again, an ancient evil brought it low. Phillippe, an immortal who escaped the carnage, has a singular goal – to resurrect someone he lost. But the cost of such magic might be more than he can bear.
In House Hawthorn, Madeleine the alchemist has had her addiction to angel essence savagely broken. Struggling to live on, she is forced on a perilous diplomatic mission to the underwater dragon kingdom – and finds herself in the midst of intrigues that have already caused one previous emissary to mysteriously disappear . . .
As the Houses seek a peace more devastating than war, those caught between new fears and old hatreds must find strength – or fall prey to a magic that seeks to bind all to its will.
And there's a lot of well earned praise for Aliette:
'A superb blend of intrigue, mystery and magic and urban fantasy; it's brilliantly written; and the story is gripping' Civilian Reader
'A few times in a lifetime, a book comes along that wraps you completely in its world and its characters. You walk its streets, smell its flowers, breathe its air alongside the characters as their stories become your story, their lives your life. House of Shattered Wings is one of those books; convincing, gripping and filled with wonders' Kari Sperring on The House of Shattered Wings
'An intriguing mystery, elegantly written . . . with carefully crafted characters both with layers and depth, De Bodard reflects the best and worst of human nature in her novel' Guardian on The House of Shattered Wings
Get this epic new novel in paperback today!
The Furthest Station – Ben Aaronovitch
A stunning PC Peter Grant novella continues this bestselling series with commuting ghosts, a kidnapping, and a superb new London mystery!
There's something going bump on the Metropolitan line and Sergeant Jaget Kumar knows exactly who to call.
It's PC Peter Grant's speciality . . .
Only it's more than going 'bump'. Traumatised travellers have been reporting strange encounters on their morning commute, with strangely dressed people trying to deliver an urgent message. Stranger still, despite calling the police themselves, within a few minutes the commuters have already forgotten the encounter – making the follow up interviews rather difficult.
So with a little help from Abigail and Toby the ghost hunting dog, Peter and Jaget are heading out on a ghost hunting expedition.
Because finding the ghost and deciphering their urgent message might just be a matter of life and death.
It's clear from the praise Ben has delivered another corker of a book:
'For all the murder and mayhem, this is a darkly comic read with characters you can't help but like' Sunday Express
'An incredibly fast-moving magical joyride for grown-ups' The Times
'As brilliant and funny as ever' Sun
The Furthest Station, Ben's outstanding Rivers of London novella, is out in paperback today.
Firebrand – Kristen Britain
The much-anticipated sixth instalment in the New York Times bestselling Green Rider series.
Karigan G'ladheon's adventure continues in the much-anticipated sixth installment in the NEW YORK TIMES bestselling series.
Green Rider Karigan G'ladheon, not yet recovered in heart or mind from her unexpected trip through time, is assigned a new mission. She must seek out the legendary creatures called p'ehdrosian to renew an alliance of old in the face of dire threats from enemies who seek to destroy Sacoridia using dark magic.
Each step on her journey northward grows more perilous as she faces attacks from groundmites, encounters with ghosts, and, ultimately, the threat of the necromancer and leader of Second Empire, Grandmother, as they approach the enemy encampment in the Lone Forest.
Meanwhile, King Zachary of Sacoridia has been kidnapped by an ice elemental who is allied with Second Empire. Can Karigan free her king from captivity with just two allies by her side?
Check out what people have been saying about Kristen's fantastic work:
'A wonderfully captivating heroic fantasy adventure. This is the rarest of finds: a truly enjoyable read' Terry Goodkind
'A healthy dose of old-fashioned adventure' LOCUS
'Kristen Britain is one of the most astonishing fantasy writers working today' Tess Gerritsen
'Britain keeps the excitement high from beginning to end, balancing epic magic battles with the humour and camaraderie of Karigan and her fellow Riders' Publisher's Weekly
This beautiful new paperback is available to buy today!
The Lady of the Lake – Andrzej Sapkowski
Geralt and his friends – and enemies! – return in the final volume of the Witcher saga. Read the stories which inspired Witcher 3: Wild Hunt!
After walking through a portal in the Tower of the Swallow, thus narrowly escaping death, the Witcher girl, Ciri, finds herself in a completely different world . . . a world of the Elves. She is trapped with no way out. Time does not seem to exist and there are no obvious borders or portals to cross back into her home world.
But this is Ciri, the child of prophecy, and she will not be defeated. She knows she must escape to finally rejoin the Witcher, Geralt, and his companions – and also to try to conquer her worst nightmare. Leo Bonhart, the man who chased, wounded and tortured Ciri, is still on her trail. And the world is still at war.
Get the thrilling conclusion to this fantastic series in paperback now!