Writing Of Books, and Earth, and Courtship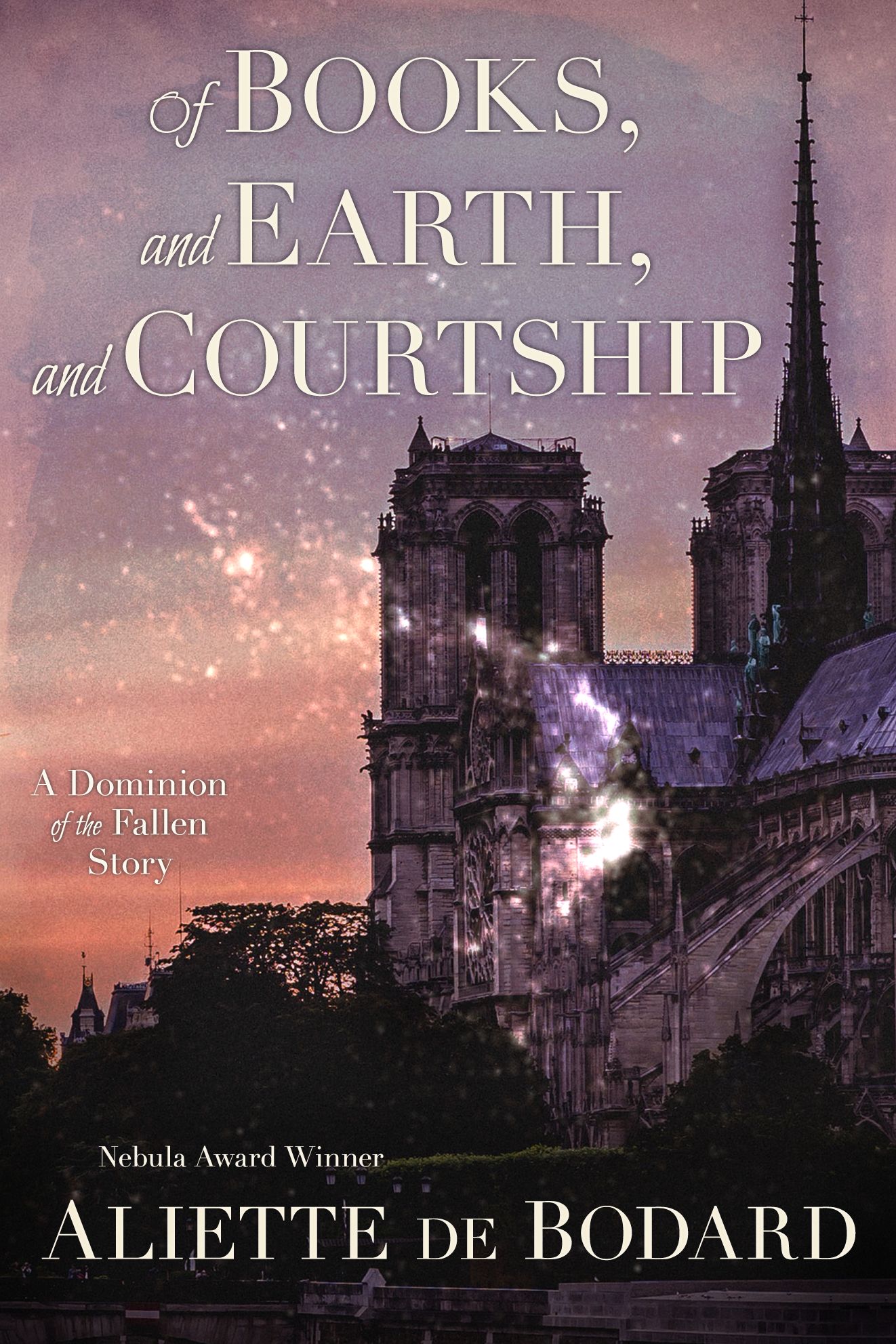 We are thrilled to welcome Aliette de Bodard back to the blog to tell us about the process of writing the prequel to The House of Shattered Wings.
Of Books, and Earth, and Courtship is a prequel story set before the beginning of The House of Shattered Wings: actually, it's set before the beginning of the war between magical factions that devastated the city and led to the ruined and wrecked streets you can see in the novel.
 I wasn't planning to write it. For one thing, I don't really do prequels very often: I enjoy reading them, but I like writing things in chronological order, and I feel there's little suspense involved. Also, as a writer, I'm constrained by, say, the inability to kill off or maim a character because they're quite obviously alive and whole in the subsequent book!
But D Franklin and Rochita Loenen-Ruiz, a couple of good friends, challenged me to write something light-hearted in the same universe, and if there's one thing I've learnt, it's that I can seldom resist a challenge…
I have a secret weakness for Emmanuelle, the archivist of House Silverspires–who might seem motherly and kind but is really made of steel–and I thought that there could be nothing more light-hearted than showing the beginning of her courtship with her lover Selene.
One of the things that I had to deal with when doing prequels is that everything is different. In particular, characters aren't quite the same. In the novel, The House of Shattered Wings, Selene has been the head of House Silverspires for twenty years, and has had time to learn to act like one–she's confident and arrogant and making the decisions she feels right for the sake of the House. But in the prequel, she doesn't have any of that experience. And likewise Emmanuelle isn't in love with her, isn't in fact even aware of her existence.
The other thing that is very clearly different is the setting: as I was saying above, it all takes place before the war that ruined Paris. The streets are whole, there are no remnants of spells that will kill people; one can linger on bridges across the Seine and not be snatched or drowned by dark powers. It's a very different city in many respects! The Houses, too, are whole, and haven't had their arrogance and confidence badly strained by the lack of resources.
I felt I had to render something closer to the Belle Epoque–not the distorted and ossified version of the novel, but something that was just subtly different from the one in our history: a city in the throes of the Industrial Revolution and undergoing huge changes, but which was still divided among magical factions and ruled by Fallen angels. I also wanted to keep some of the darker tone of the novel, which isn't necessarily obvious when dealing with a caper/adventure story.
In the end, I went for the hint of darkness. The adventure that Emmanuelle and Selene go on–the test set for Selene by her master Lucifer Morningstar–involves infiltrating another House, and seeing first-hand how inequalities operate. The day labourers who come to the House for their subsistence are a far cry from the luxury Selene is accustomed to; and the way they are exploited is an omnipresent part of the background, and prefigures the huge inequalities that will come into place after the war. But it is also light-hearted, in the sense that the overlying story arc is a Fallen angel falling in love with another, and their gradually learning to trust each other as they have to rely on one another to survive.
I don't know how well it succeeds. The reaction to it has been very positive (and sales have been great, which just goes to show there's a market for adventure/courtship stories!).
For my part , it's been hugely helpful to have a sense of things before the war, and also to explore another House (House Harrier) which appears in The House of Shattered Wings but doesn't feature heavily in the novel. And to sort out the complex and messy relationship between Selene and Emmanuelle and Morningstar, and how it influences what happens after Morningstar disappears. It's filling in corners of the world I never knew existed, and making it stronger and more realistic (and allowing me to prepare for book 2!).
So, as it turns out, it's a bit of a lie to say I don't do prequels very often; because I certainly would do it again.
You can find more information on  the short story  and on the novel .
The House of Shattered Wings is out now in trade paperback, eBook and audio download. You can read the epic first chapter here.
Aliette de Bodard is one of the Writers of the Future, has won two Nebula Awards, a Locus Award and a BSFA Award. She has also been a finalist for the Hugo, Sturgeon, and Tiptree Awards, making her one of our most-lauded contemporary fiction writers. A writer by night, by day she is a qualified engineer, specialising in Applied Mathematics. You can learn more at www.aliettedebodard.com or by following @aliettedb on Twitter.